Puppies are here! 5 girls and 2 boys born 1-20-12.

Sadly 1 boy and 2 girls didn't make it.  The 2nd girl is sold and for now I'm keeping the other 3 pups to see how they turn out for showing. Pictured below at 9 days, 4 weeks and 6 weeks old.

Sire: AKC Ch. Lumberjacks's Tall Dark N'Handsome "Handee"

Dam: UKC Ch. Venture's I Saw a Putty Cat CGC "Kat"

This page was last updated on: April 14, 2012

BEWARE! Puppy Buyers please read!

Please beware of "so called breeders" selling designer dogs as a purebred dog saying they are the new Hybrids or designer dogs. Dogs such as Bugs (Boston/Pug), Chugs (Chihuahua/Pugs), Boggles (Boston/Beagle), Puggles (Pug/Beagle) and the list goes on and on. These pups/dogs are not purebred, they are a mixed breed even though *registered* with CKC, etc.  CKC/NKC and other registries don't care what breeds are mixed together so long as they are getting money to register these "designer dogs" as purebred dogs. CKC will register a dog just by what the owner says it is. It can be a dog gotten for free out of the paper or one that someone has found. They do not require any proof such as pictures or other registrations as to a dogs breed. Anyone can say a dog is a certain breed and get it registered with CKC and then sell registered pups.

This is just a way to register mixed breeds or dogs that are not the breed they claim, just to make money off unsuspecting families that think they are getting a "purebred" pup and they are NOT. This is just a way for someone to make a lot of $$$ selling a mixed breed dog as a purebred dog! Some of these designer dogs are selling for more than a show quality puppy would from a reputable show breeder.

These "so called breeders" also say these mixed breeds are free from hereditary problems. They are NOT, pups can still be affected with genetic or congential problems that both breeds can have. Even mixed breeds can have problems, no dog is completely free of having genetic or congential problems.

Also beware of any breeders selling red/blue/fawn/lilac or any other ODD color as rare.  They are NOT rare and they are a disqualification in the breed standard. Only allowed colors are black, brindle and seal (seal appears black except in the sun where it has a reddish cast) with the required white markings. Seal is NOT red/fawn/brown.

There are plenty of mixed breed dogs at shelters that are needing a home. If you want a mixed breed dog, please go to your local shelter. There is nothing wrong with mix breed dogs, they make wonderful pets. It is wrong when people breed 2 different purebred dogs together so they can say they have designer dogs/pups for no other reason than to make money.

Also BEWARE of any breeder, that refuses to let you come to their home to see pups and the parents and want to meet you somewhere to deliver the pup or want to ship it when you are within driving distance.

This should be a BIG RED FLAG.

Please buy your puppy from a reputable AKC or UKC breeder, preferably from someone that shows and are breeding to the  Boston standard and knows all about their care and specifics of that breed.  REMEMBER: AKC and UKC ONLY register purebred dogs, they do NOT condone mixing of breeds.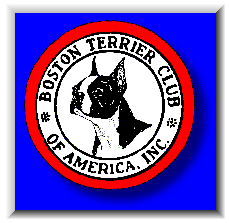 Proud member of The Boston Terrier Club of America